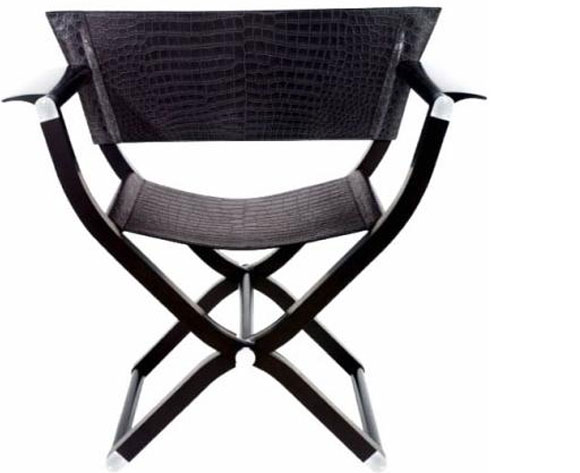 Tacky. Temporary and Obsolete. They could quite be some words to describe foldable furniture that is so synonymous with outdoor furniture, that people often sidestep it over their other indoor treasures. French Luxury house Hermes that is known for its foldable indoor and outdoor furniture has just emerged with an ultra luxury update on its Hermes Crocodile Pippa folding chair. It is a folding seat that does not look outdoor, is stylishly elegant and yet comfortable.
Its classy design and limited edition features make it look the pride of a living room, for it is finished in matte black crocodile skin. The chair's structure is made of ebony finish maple and nickel plated hardware. Pippa chair's design was originally inspired by Jean Michel Frank and Paul Dupre-Lafont designs of 40s and 50s.
Twenty years ago, Pippa's chic design had pear wood. Rena Dumas, principal of the Paris-based design firm Rena Dumas Architecture Interieur and wife of Hermes President Jean-Louis Dumas-Hermes designed the chair. It has since been developed with care and panache. The only thing that could come between you and the chair is its fancy price tag of $ 24,000. If you are still rich in these times of recession, go for the almost-holy furniture.
Via JustLuxe